Tarbiyah Journal published by Tarbiyah Science and Teacher Training Faculty, State Islamic University of North Sumatera Medan, Medan City, North Sumatera Province,Indonesia

Tarbiyah Journal is published since 1993 for Vol.1, No.1 and have gotten ISSN on May 29, 2007. This journal focuses on scholarly writing and articles of Tarbiyah science, Education and Islamic studies in the form of study, conceptual, reserach results, book review and biography


| | |
| --- | --- |
| Journal Title | JURNAL TARBIYAH |
| Subject | Education |
| Language | English |
| ISSN | 0854-2627 (Print) -  2597-4270 (Online) |
| Frequency | 2 Issues Per Year (Biannual) |
| DOI | Prefix 10.30829 by Crossref |
| Editor in Chief | Mesiono |
| Publisher | Fakultas Ilmu Tarbiyah dan Keguruan UIN Sumatera Utara |
| Citation Analysis | Google Scholar |
| OAI | http://jurnaltarbiyah.uinsu.ac.id/index.php/tarbiyah/oai |
Support Mendeley Citation Tool.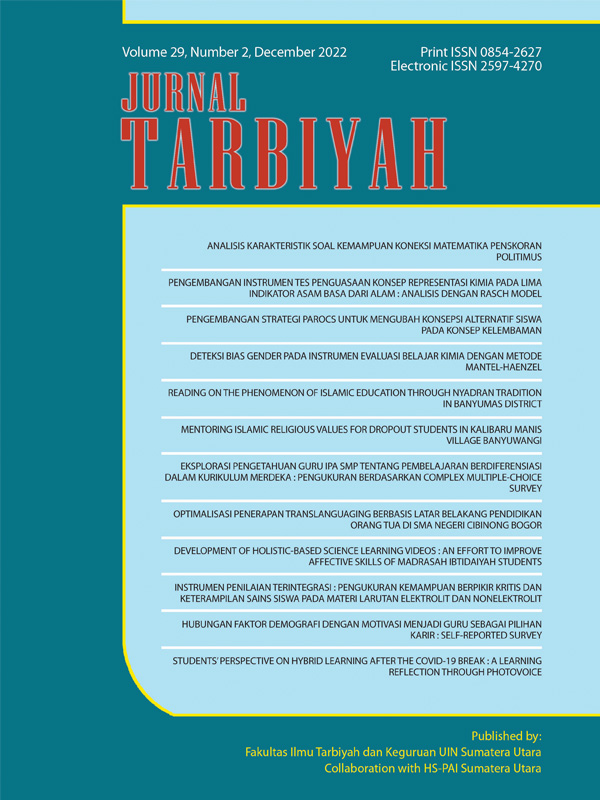 Announcements
Call for Papers Vol.27, No.2, July-December 2020

We welcome submissions for below topics, but limited based on focus and scope Jurnal Tarbiyah.

Studies in Islam Education
Figure of Islam Education
Innovation of Islam Education
Islamic Education Management
Studies in Science Education
Teacher Education
Teaching & Learning
Education Development & Society
Educational Leadership
Educational Technology

Posted: 2020-06-30
More...
Vol 27, No 1 (2020)
Available online since 30th June, 2020
Table of Contents
Articles
| | | |
| --- | --- | --- |
| | Didin Nuruddin Hidayat, Lili Samrotul Karimah, Alek Alek, Agus Sufyan | |
| | | |
| --- | --- | --- |
| | Indra Prasetia, Akrim Akrim, Emilda Sulasmi | |
| | | |
| --- | --- | --- |
| | Rizki Akmalia, Amiruddin Siahaan, Mesiono Mesiono | |
| | | |
| --- | --- | --- |
| | Syamsu Nahar, Wahyudin Nur Nasution, DTM Ayub Azhari | |