Jurnal Online Fakultas Ilmu Tarbiyah dan Keguruan UIN Sumatera Utara Medan adalah sistem penerbitan online berbasis Open Journal System (OJS) yang diterbitkan oleh Fakultas Ilmu Tarbiyah dan Keguruan UIN Sumatera Utara Medan beserta beberapa Program Studi dibawahnya.
A B C D E F G H I J K L M N O P Q R S T U V W X Y Z All
JURNAL BIOLOKUS
Jurnal Biolokus adalah jurnal yang diterbitkan oleh Prodi Tadris Biologi  Fakultas Ilmu Tarbiyah dan Keguruan Universitas Islam Negeri Sumatera Utara Medan Indonesia. Ruang lingkup Jurnal Biolokus adalah: Pendidikan Biologi dan ilmu biologi (Biologi Sel, Biokimia, Taksonomi, Zoologi, Botani, Mikrobiologi, Bioteknologi, Etnobotani, Ekologi, Fisiologi, dan kultur jaringan)
View Journal | Current Issue | Register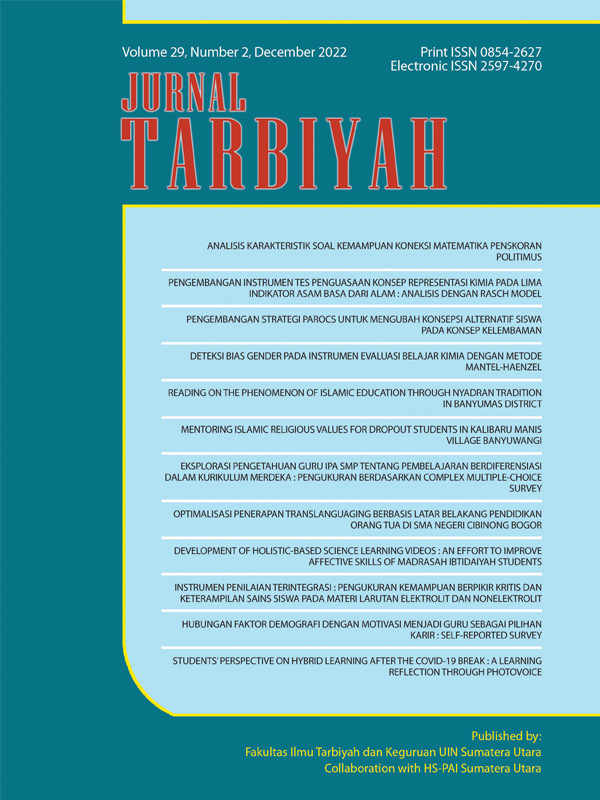 JURNAL TARBIYAH
Tarbiyah Journal published by Tarbiyah Science and Teacher Training Faculty, State Islamic University of North Sumatera Medan, Medan City, North Sumatera Province,Indonesia

Tarbiyah Journal is published since 1993 for Vol.1, No.1 and have gotten ISSN on May 29, 2007. This journal focuses on scholarly writing and articles of Tarbiyah science, Education and Islamic studies in the form of study, conceptual, reserach results, book review and biography


| | |
| --- | --- |
| Journal Title | JURNAL TARBIYAH |
| Subject | Education |
| Language | English |
| ISSN | 0854-2627 (Print) -  2597-4270 (Online) |
| Frequency | 2 Issues Per Year (Biannual) |
| DOI | Prefix 10.30829 by Crossref |
| Editor in Chief | Mesiono |
| Publisher | Fakultas Ilmu Tarbiyah dan Keguruan UIN Sumatera Utara |
| Citation Analysis | Google Scholar |
| OAI | http://jurnaltarbiyah.uinsu.ac.id/index.php/tarbiyah/oai |
Support Mendeley Citation Tool.
View Journal | Current Issue | Register
1 - 2 of 2 Items